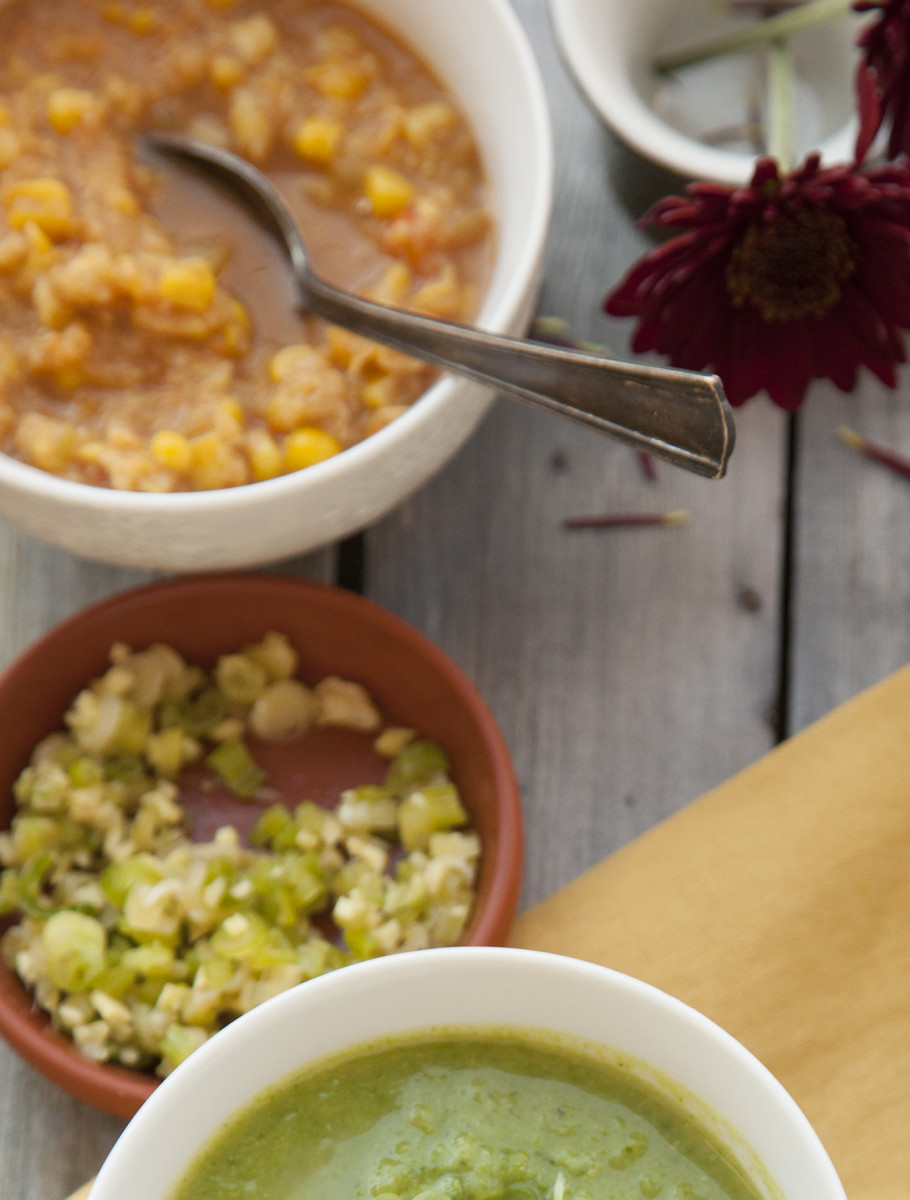 This Smoky Corn Chowder is a Southwestern soup that uses its own ingredients first for stock.
Duration

Cook Time

Prep Time

4-6

Servings
Ingredients
Stock
4 corn cobs
1 onion peel
4 garlic clove shells
1 heel celery
3 tips carrots
Soup
1 onion, chopped
4 ears corn, removed from the cob
4 cloves garlic
2 ribs celery, chopped
3 carrots, chopped
1⁄4 cup fresh cilantro, chopped
2 tablespoons grapeseed oil
2 tablespoons smoked paprika
2 teaspoons salt
2 teaspoons ground cumin
1 teaspoons ground coriander
1⁄2 teaspoon chipotle powder
Preparation
1. Boil in corn, onion, garlic, celery and carrots in 8 cups water until reduced by half, about one hour. Stock should have a strong corn flavor. Set aside
2. Heat soup pot to medium-high. Add oil, then onion. 
3. Cook onion for about ten minutes until soft and lightly golden. 
4. Add corn, garlic, celery, and carrots, and sauté for several minutes until slightly caramelized. 
5. Add dry spices, and cook for an additional minute. 
6. Add stock. Bring to a boil, then reduce to a simmer and cook until veggies are soft, about 25 minutes. 
7. With an immersion blender or by placing half of soup into a stand blender, blend soup until about half its contents are creamy. This will give the soup a chowder feel with no dairy or dairy substitutes needed. 
8. Add chopped cilantro immediately before serving. 
Recipe published in JOY of KOSHER with Jamie Geller Magazine Purim 2014 SUBSCRIBE NOW