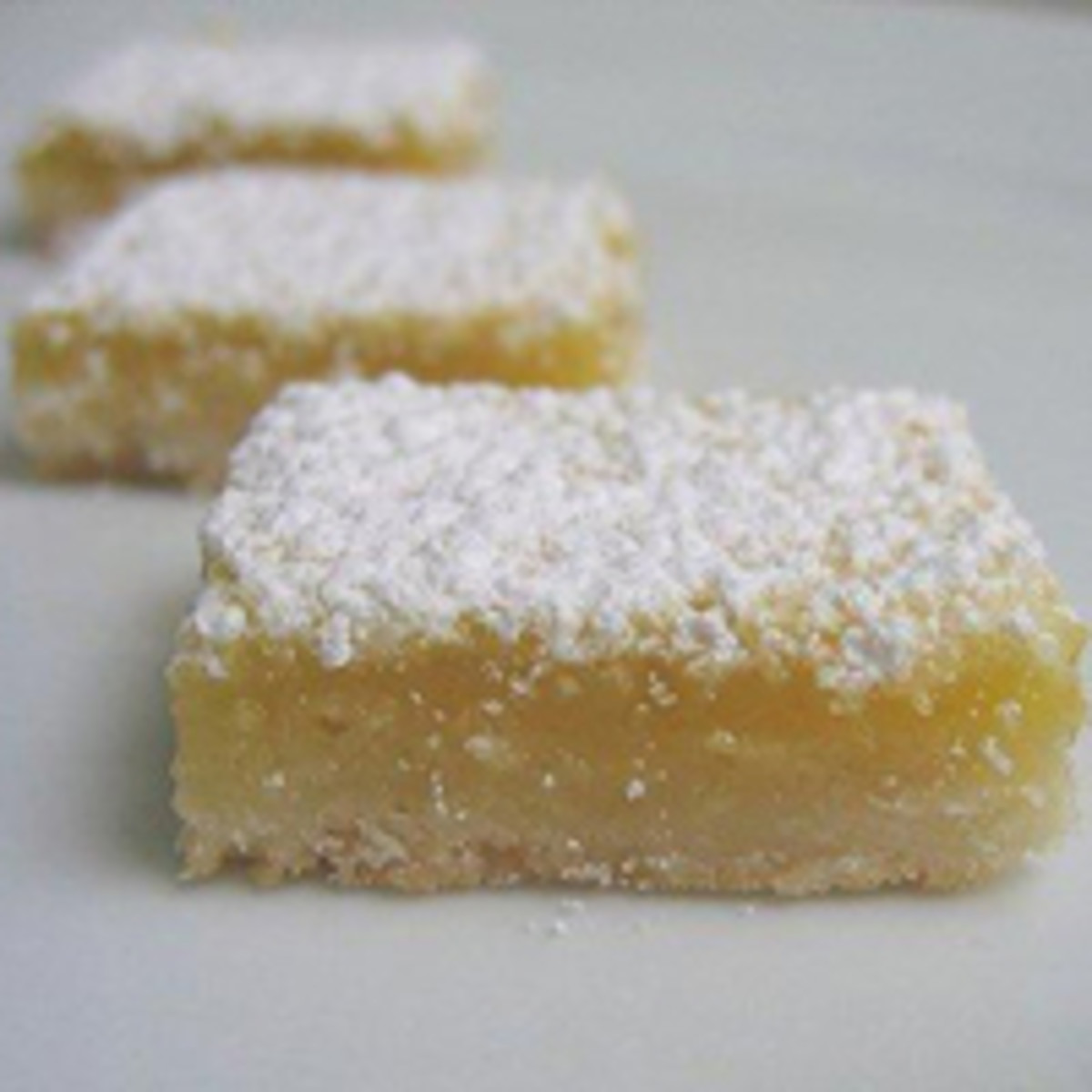 Note: This recipe has been updated in 2015 taking into account some of the comments and having been retested, it is now better than ever. Take your Passover dessert-making to new heights with lemon bars. These tasty parve treats add zing to dessert and snack time. Keep reading for a lime version.
Duration

Prep Time

Makes 12 large or 16 medium sized bars Servings

Servings
Ingredients
Crust:
5 tablespoons margarine
1 cup ground walnuts
1 cup ground almonds
3 tablespoons sugar
Pinch salt
Filling:
1 1/2 cup sugar
¼ cup matzo cake meal or potato starch
3 eggs
3/4 cup fresh lemon juice
3/4 teaspoon lemon zest
1/4-1/2 cup powdered sugar for dusting
Preparation
For the crust: Preheat oven to 350 degrees. Line a 9 x 13 inch baking pan with foil, letting the ends hang over and spray lightly grease.
In a small pot, melt margarine over medium high heat. Add walnuts, almonds, sugar and a generous pinch of salt. Remove from heat and spoon evenly into prepared pan. With a fork or the palm of your hand, press crust all over the bottom of pan, creating an even crust across the bottom of the pan. Bake for 15 minutes or until golden. Cool.
Lower the oven temperature to 325 degrees.
For the filling: Combine sugar and matzo cake meal/potato starch in a medium bowl. Add eggs and whisk to form a paste. Add lemon juice and zest and stir to combine. Pour onto cooled crust.
Bake until filling is just set, 15-20 minutes. Cool in pan before cutting. Dust bars lightly with confectioners' sugar before serving.
For Lime Bars: Replace lemon juice and zest with equal amounts of lime juice and lime zest. I often serve them together for a gorgeous contrast of taste and color on the serving dish.
Note: The original recipe called for a homemade macaroon crust. 1 can of coconut macaroons was processed and mixed with 1/4 cup melted margarine. If that is your preference enjoy.
Contributed by:GourmetKosherCooking.com