Honey Chicken with Sauteed Brussels Sprouts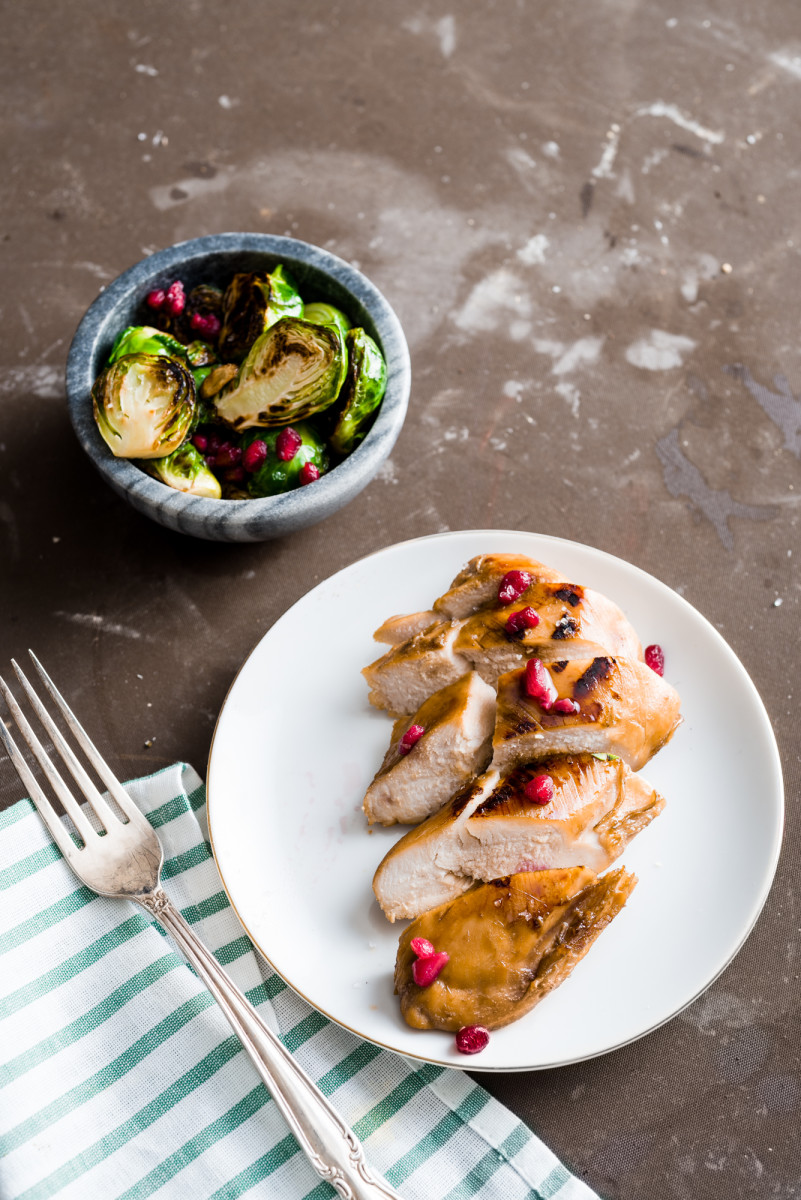 Serve this flavorful season chicken in the Fall when fresh pomegrantes are in full swing. 
Duration

Cook Time

Prep Time

4

Servings
Ingredients
2 tablespoons fresh pomegranate seeds, lightly squeezed, or 2 tablespoons frozen pomegranate seeds
2 tablespoons soy sauce
⅓ cup honey
3 Wise Organic chicken breasts
Sauteed Brussels Sprouts with Lemon and Pomegranate Seeds
1 tablespoon olive oil
3 cloves garlic, sliced
8 ounces fresh brussels sprouts, sliced in half lengthwise
1 tablespoon fresh lemon juice
4 ounces pomegranate seeds
¼ teaspoon kosher salt
¼ teaspoon lemon zest (if desired)
Preparation
1. Preheat oven to 425°F. Spray 8 by 8 inch glass baking pan with cooking spray. 
2. Stir together pomegranate seeds, soy sauce, and honey until combined in small bowl. 
3. Place chicken breasts side by side in 8 by 8 inch glass baking pan. Drizzle half of pomegranate mixture over chicken until completely coated. Bake for 10 minutes. 
4. Remove pan from oven; flip chicken; add about ⅓ more mixture to coat, and put back in oven for 10 more minutes. 
5. Flip chicken again, add remaining mixture, and bake five minutes more. Remove from oven and carefully tent baking pan with foil for five minutes. Serve with pan juices and enjoy
Sauteed Brussels Sprouts with Lemon and Pomegranate Seeds 
1. Heat olive oil over medium heat. 
2. Add three sliced cloves of garlic, and heat until fragrant and lightly fried, about 1 minute. 
3. Add brussel sprouts, stirring frequently, and saute until golden on both sides (about 4 minutes). 
4. Add lemon juice; toss for one minute. Remove pan from heat, add pomegranate seeds, salt, and lemon zest (if desired) and toss to combine. Serve immediately!