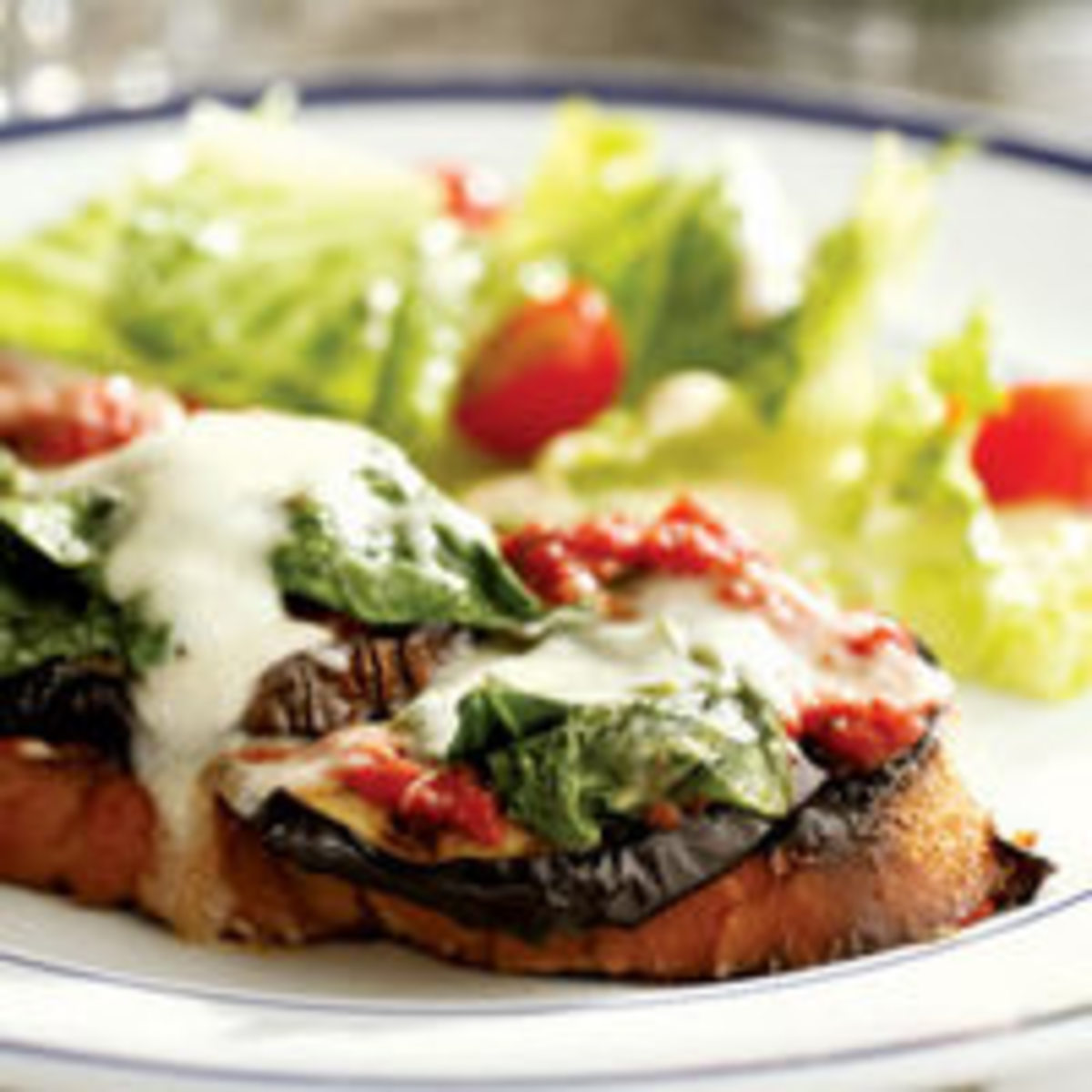 An updated version of an old family favorite - eggplant parmesan!
Duration

Cook Time

Prep Time

6 servings Servings

Servings
Ingredients
2 :large eggplant, sliced lengthwise into 1 inch thick slices (you will need 12 slices)
Kosher:salt for purging
1/2 :cup flour
3 :eggs, lightly beaten
1/4 :chopped fresh parsley
2 :teaspoons chopped fresh thyme
1-1/2 cups:unseasoned panko breadcrumbs
24 :fresh basil leaves
1 :cup confit tomatoes or favorite tomato sauce
24 :slices mozzarella cheese (optional)
1/2 :cup parmesan cheese (optional)
olive:oil or canola oil for frying
kosher:salt and freshly ground black pepper
Preparation
Preparation
Place the eggplant slices on a wire or cooling rack over a cookie sheet. Heavily cover the eggplant slices, on both sides, with the kosher salt. Let the eggplant sit for one hour.
Rinse off the salt and pat the eggplant thoroughly dry. Put the flour in a pie pan or container that can accommodate the eggplant. Place the eggs in a separate container. Mix the breadcrumbs and fresh herbs in a third container.
Heat a large saute pan with about 1/2 inch of olive oil over medium-high heat.
Place the eggplant in the flour and dredge to coat completely. Dip the eggplant in the eggs and finally in the breadcrumbs. Fry the eggplant in the hot oil until it is golden brown, flip and fry on the other side.
Transfer the eggplant to a sheet pan lined with paper towels. Repeat the process until all the slices are browned.
Transfer six eggplant slices to another sheet pan. Spoon three tablespoons of sauce on top of each slice.
Top with one slice of mozzarella cheese and a basil leaf. Sprinkle with parmesan cheese. Place a second slice of eggplant on top of each stack. Spoon additional sauce, more cheese and basil on top.
Bake the eggplant until the cheese has melted (about 15 minutes). Serve with green salad and fresh herbs lightly dressed with extra virgin olive oil
Tips
Confit tomatoes are easy to prepare and add depth of flavor to this dish.
Contributed by:LAURA FRANKEL
The practice of salting eggplant before cooking is not to remove bitter juices. Eggplants are made of mostly water held in small cells. Not removing the water before frying would result in soggy, greasy eggplant. By purging the cells of the water we remove the water and collapse the cells so they do not absorb the oil during frying. This keeps the eggplant crispy and prevents it from being greasy.